THE WORLD'S MOST EFFECTIVE UNDERWATER INTRUSION DETECTION SYSTEM
Nuclear Facilities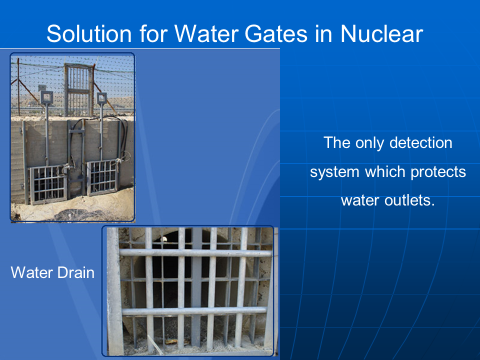 ---
Any attempt to cut, lift, crawl under, climb over or pass through the

FiberNet

will result in detection.
---
99.99% Probability of Detection plus a virtually zero false alarm rate!

Effective and comprehensive. Designed for medium- to highsecurity risk installations, the MarineNet delivers the most reliable and effective front-line intrusion detection.

No Metal Components. Immune to interference from noise, radio frequencies, electromagnetic or electrostatic fields. Transparent to radar microwaves.

Durable.

Our fiber-optic cable has a 30-year lifespan and will likely outlast your infrastructure! The MarineNet is unaffected by weather, harsh environments, corrosion or UV radiation; it can be installed in fresh or salt water.
No False Alarms

.

The MarineNet is not affected by shock, vibration, or wind.
Versatile.

Can be installed as part of a comprehensive integrated system or stand-alone with dry-contact outputs. It can be installed freestanding or attached to any new or existing barriers.
Integrated GUI.

All BEI Security turn-key systems include our advanced System Command Center to provide immediate and reliable data relating to any intrusion attempt. The SCC is vendor-independent, and may be integrated with any new or existing equipment.
PRINCIPLES OF OPERATION
The FiberNet technology is a uniquely structured fiber-optic system comprised of a fiber-optic woven net. Each FiberNet zone is comprised of a single woven fiberoptic cable. Coded infrared (IR) light is sent through the fiber-optic cable; a cut in the cable, breaking the light path, will trigger an alarm. The FiberNet is generally comprised of two uniquely structured sections of fiber-optic net, a lower section for cutthrough protection, and an optional upper outrigger section (FiberNet XL).

FiberNet XL combines the fiber-optic woven net with an upper outrigger section to protect against cutting and climbing over. It incorporates state of the art transducers and heavy duty fiber optic cable stretched between the transducers and inserted into the upper loops of the net. This part is slanted, to prevent the use of ladders.
Any attempt to cut through or climb over this upper outrigger will trigger an alarm.
The pressure sensitivity on this section can also be adjusted to accommodate a balance between security and environmental conditions.
SYSTEM SPECIFICATIONS
Optical Components
Cable - Multimode fiber-optic, heavy-duty military spec tactical cable; KEVLAR reinforced polyurethane jacket withstands UV radiation.
Light Source - Class 1 Laser Diode (850, 1300 nm)
Detector - PIN Diode
Optical Connectors - ST
Detection Zones up to 120 m /500 ft.
Version A. Connected to the computerized alarm, monitoring and control system via fiber-optic or wireless transmission.
Version B. Stand-alone, provides dry contact outputs.
Zone Processing Units- Electro-optic zone processing units installed in climateproof enclosures monitoring up to 2 zones; redundantly routed fiber-optic communication cables connect ZPUs to System Command Center controlled by microcomputer with Graphical User Interface that allows wide range of calibration and sensitivity settings:
Adjustable alarm threshold for various fencing structures and environments.

Advanced signal processing to significantly decrease false and nuisance

alarms.
Enclosure
Fiberglass polyester NEMA-EEMAC Type 4 or 4X
Current - 28 MA
Input Voltage - 9-50 VDC, 1/2 A or 24-36 VAC, 1/2A
Output
8 Control open collectors, 300 MA

8 Relay dry contacts
Operating Temperatures - -30C to +70C (-22F to +158F)
Monitors
2 zones of fiber-optic net, up to 120 m. (500 ft.) each
2 zones of upper fiber-optic cable
4 dry contact sensors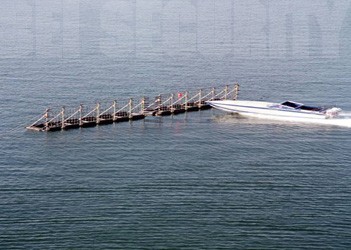 The MarineNet can be installed underwater in one of two configurations:

Marine RIGID System - whereby the net is connected to existing poles. It is well suited for oil rigs and shallow areas.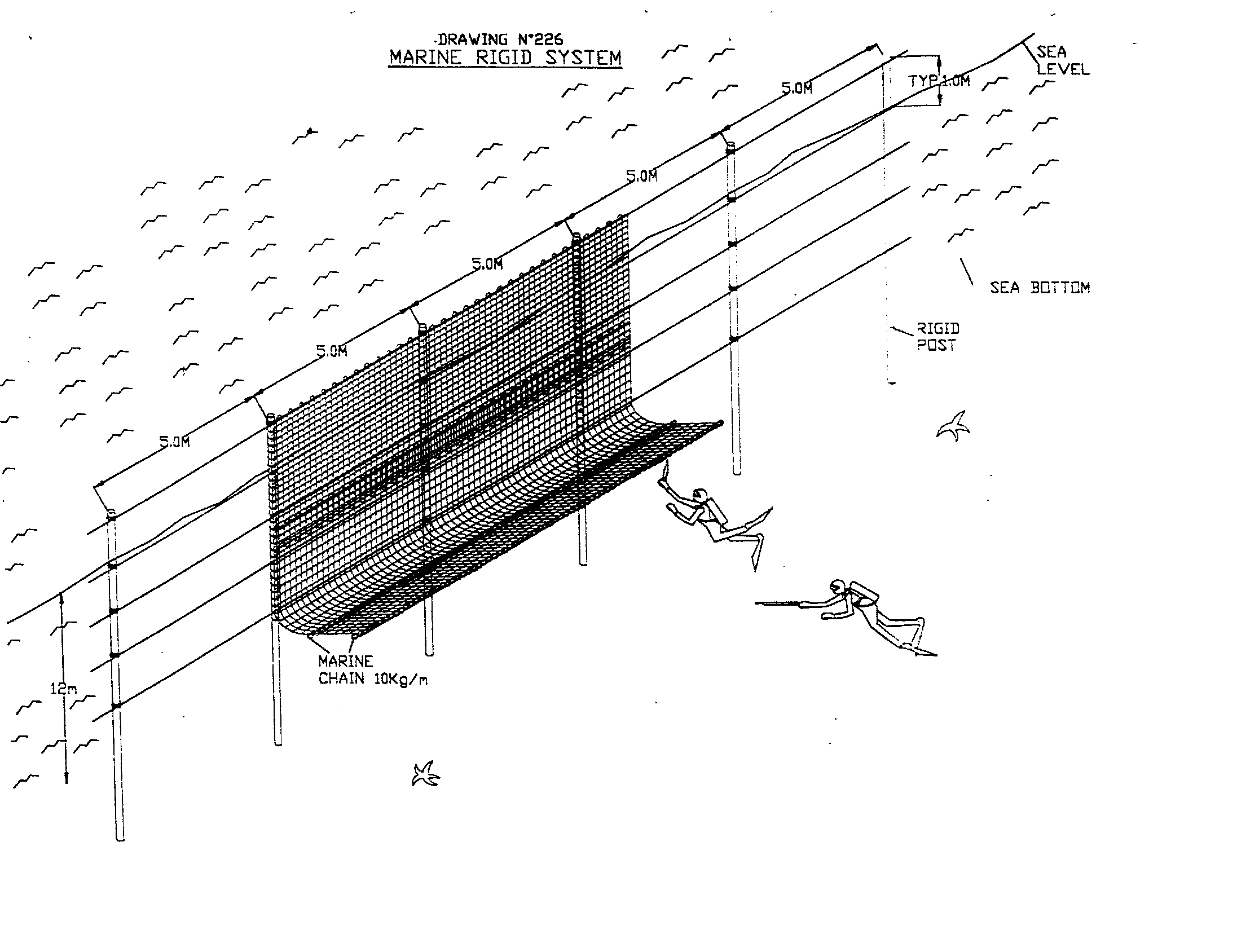 Marine FLOATING System - whereby the net is connected to floating buoys. It is well suited for quick spreading in harbors, for surrounding vessels and offshore deep water areas.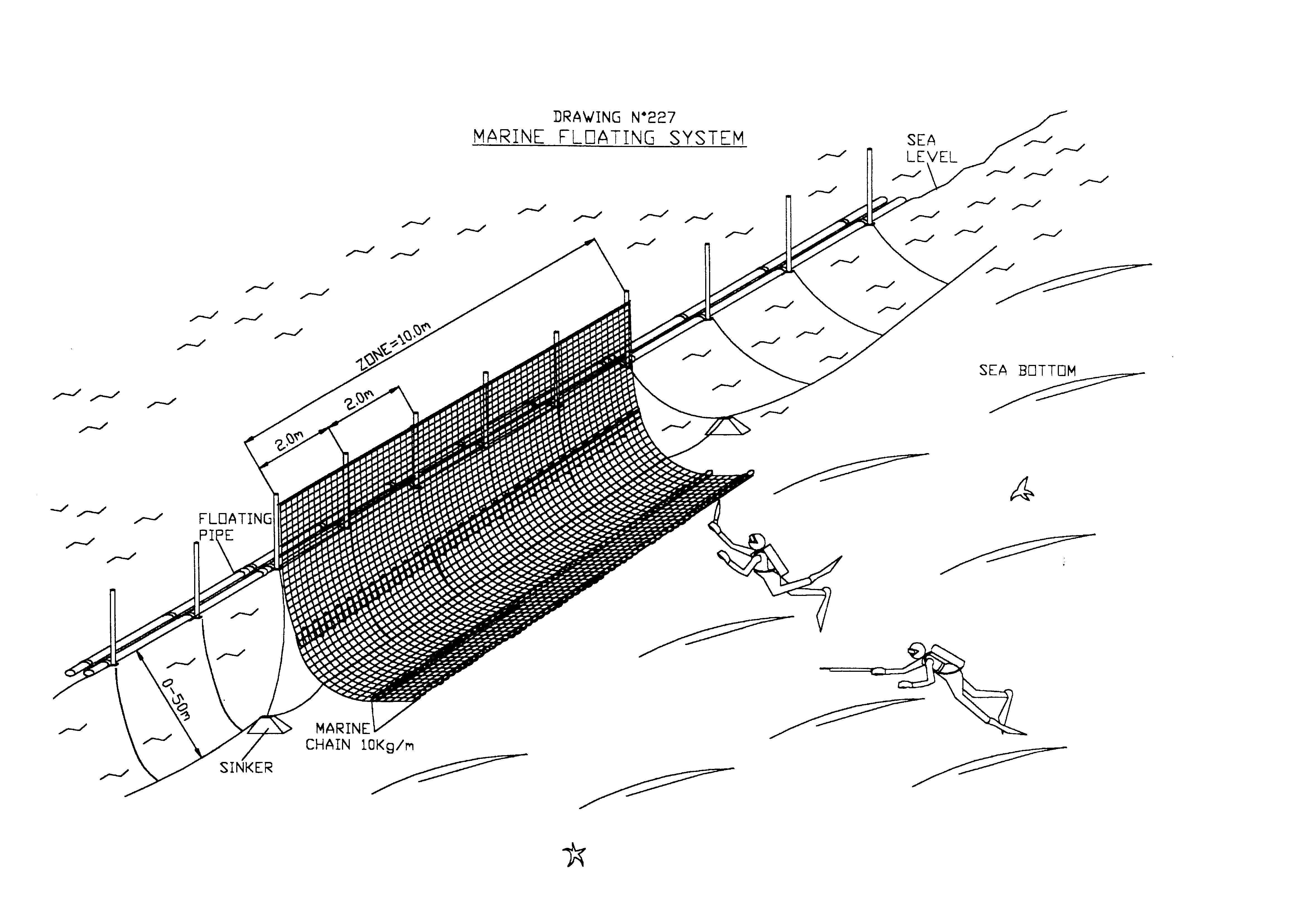 Flexible
Applications
Naval Bases
Power Stations
Harbors and Ports
Offshore Oil Rigs
Underwater Pipelines and Cables
Aquaculture and Beaches